Welcome to Cor Jesu!
This website contains links, text, videos, and activities that will help you get to some some important ways you can use your computer for your classes here at CJA. Before you dive in, though, a few bits of instruction:
This lesson is INTERACTIVE. You will be required to download, create, upload, etc. throughout.
You need to download the Task File and save it to your computer. This is a Word document where you will record answers to questions, copy images, etc. At the end, you will submit it to your instructor online.
If you need help or have a question, follow these steps:
Check online. See if you can find the answer using the tools in front of you.
Ask a friend. See if one of your classmates has figured it out or knew it already.
Ask Mrs. Fank. If on campus, find me. If at home, send me an email.
---
It is recommended that you work through the topics below in order, but you do not need to finish all in one sitting. If you already know something, it will only take you a few minutes to skim through and complete the task associated with the topic. Work at your own pace - all students at CJ are coming from different backgrounds in computer use.
What do you need to know?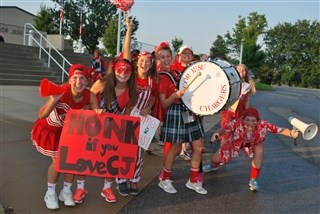 Acceptable Use Policy

Review the policy and answer a few questions.

Windows 10 Exploration

Learn about features of Windows 10 and basic navigation, file saving, etc.

Printing at CJA

Learn about printers on campus and how to conserve paper.

Getting into Google: Chrome and Apps

Sign into Chrome to save your bookmarks, etc., then explore Google's web apps.

Microsoft Office 365 and OneDrive

Set up your Office 365 account and connect your Offie apps to OneDrive for cloud access.

Microsoft OneNote

Learn how to create notebooks, where to save them, and how to use this app.